So, rumour has it that the search for the perfect purple ink was behind the birth of The Writing Desk (which got Scribble rather excited) – is that true?
Well, almost! For a while it was difficult to get hold of Waterman purple, for reasons which were never explained, then we were on holiday in France and came across some lovely alternatives by J.Herbin. They had no UK retailers at that point, so we stepped into the breach.  We already had some experience of trading a few vintage pens online, and when Anna decided not to return to work as a solicitor after we had a daughter, one thing led to another.  Soon we were selling Pelikan too, then Conway Stewart.  The rest, as they say, is history.  We soon took on Private Reserve as the sole UK suppliers too, then Martin stepped back from his old job as an audio engineer and The Writing Desk became a full-time occupation.  We do sell quite a lot of purple ink, as it happens, but one or two other shades too…
How has life as a pen 'etailer' developed?
Pretty fast. When we launched our first website in 2001 there were few competitors, but also not so much in the way of ready-made platforms – we had to do our own technology development as well as sourcing the merchandise.  The web element has become a little more straightforward since, and we now find we have a healthy combination of appearances at pen shows and links with customers all over the world, from Keynsham to Kazakhstan.  Many of our customers, and suppliers, are in the EU so there could be further developments around the corner.
What works best for you in staying in touch with customers, new and old?
We do contribute to some 'hard copy' publications, like the WES journal, but of course a lot of our contacts are formed and developed online too.  Answering questions on forums like FPN has been mutually helpful in the past.
So, tell us about TWD's favourite pen brands…
Yard-o-Led, to follow on from United Inkdom's recent articles, has been a big success; we were the first online retailers, and people really love the pens.  Edison remains unique to The Writing Desk in the UK, after John Serowka recommended us to Brian Gray; they're a lovely company to work with and they've benefitted from working directly with customers via social media too. We loved selling Conway Stewart and were sorry to see the brand go, but Sailor is still going splendidly; their pens may look fancy, but those nibs are excellent – the 'King Eagle', in particular, is really something special. As one of the few TWSBI dealers in the UK we find their special editions fly off the shelves rather rapidly, too. Finally, we have to mention Kaweco; we're big fans of the Sport and the new Supra is so well put-together, too.
…and inks?
Of course! Private Reserve, and Rohrer and Klingner, remain exclusive to us in the UK, and they both have sterling reputations.  Naturally we're Diamine fans too, and our big 100ml refills have been popular ever since we started selling them – indeed, we're thinking of refreshing the range soon, so ideas for inks which you writers need in high volumes are welcome!
How's the workshop coming on?
That side of the operation is something we've always done but not really advertised previously, but we do quite a bit of pen servicing and repairs now, and are getting into nib tuning.  Italic regrinds and even nib width reductions are quite popular, along with the occasional TWSBI repair – those are user-serviceable but not everyone finds it a walk in the park.  It's a part of the business we quite enjoy and, while it's maybe not a big money-spinner, a lot of customers find it makes a big difference to their enjoyment too.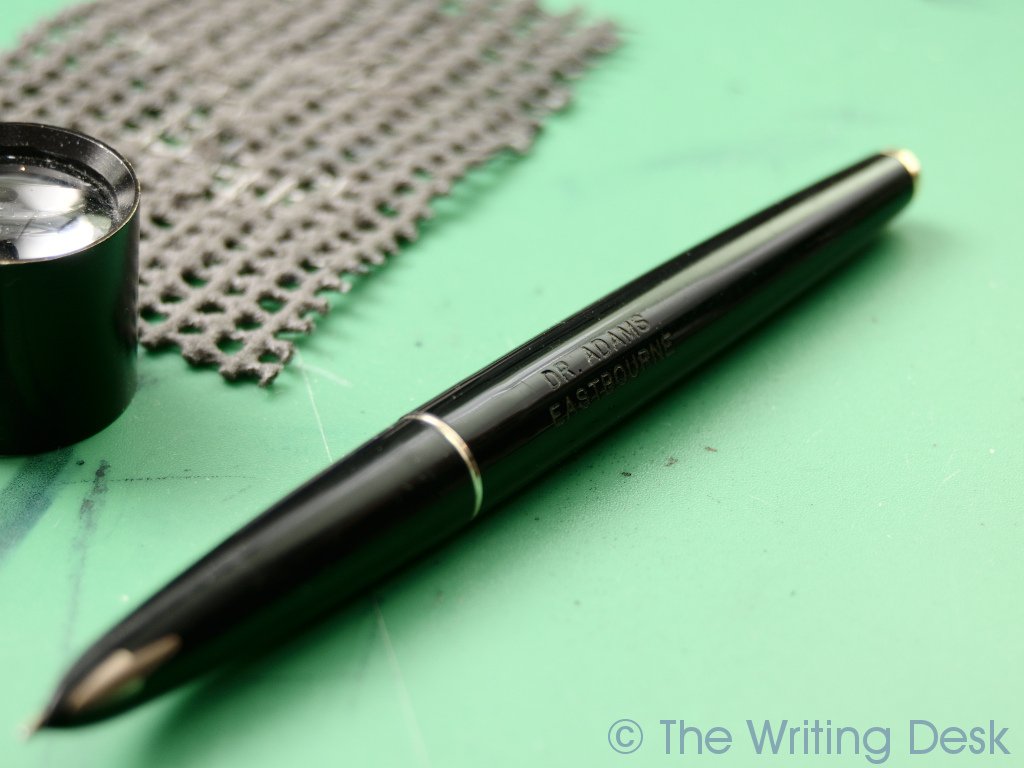 So, the big question – what are you both writing with today?
Martin is using a vintage Pelikan M730/D730 set and a venerable Lamy 2000, while Anna is sporting a black Kaweco Sport and a TWSBI 530 – the first TWSBI the company acquired, and it's still going strong.
Keep watching for meta-reviews of a pen, and an ink range, that only The Writing Desk stock in the UK…